THEMATIC SOURCE BOOK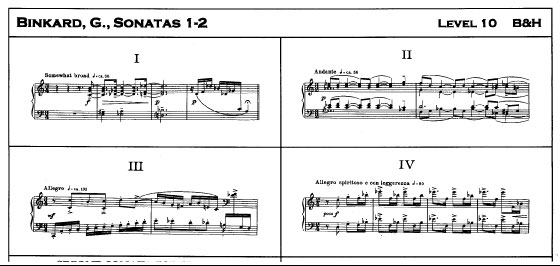 Thematic Source Book: ¡°A Thematic Dictionary¡±
Q: What is "Thematic Source Book"?
A: "Thematic Source Book" provides an excellent CM repertoire reference book for all levels of teachers. This user friendly resource lists the first line of score from syllabus pieces and even includes every sonata movement. I find it especially helpful in checking the content of different anthology collections. This comprehensive repertoire guide would be a wonderful and valuable resource to include in any teacher's library. - Nakyong Chai, MTAC Orange Coast Cities Branch, Professor Emeritus at Saddleback College

This book is going to be a wonderful and a helpful resource tool for our teachers in choosing the right repertoire for our students. As for me, I am so glad to tell you that we finally have a manual of properly graded CM musical material for teaching as well as hands on reference indexed by composers, musical periods, publishers and levels. I think Thematic Source Book will be extremely helpful to me in many different ways. I am sure that now my trips to music store will be less frequent and I will not have to spend as much time to look for the right music. Thank you for your valuable contribution to MTAC! -Boska Dzida, MTAC-OCW President


Q: How can this book be used?
A: Some will want to find out Certificate of Merit qualifying piece, some will read to find new literature to teach, and some will study it to find ideas for new composers or new pieces by a composer.

¡°Is Rondino by Rameau in a Level 2 book in the syllabus? Yes! It¡¯s the Menuet and Rondeau in Faber's Developing Artist Piano Literature, Book 2. A Certificate of Merit qualifying piece is verified.

Thematic Source Book is making my job easier. It gives me fingertip information, saving me list-making and research trips to the music store.¡± -Mary Joy, Orange County North MTAC, President


Q: What provisions have you made to keep the book updated periodically?

New music is being added to the syllabus-repertoire; how will you add to the source?
A: The MTAC syllabus was revised last year (2007) and it'll last for a few years. When the state revise the syllabus, they'll add new pieces published and we'll provide supplementary edition to the existing source book.
ands-on reference tool Indexed by composer, level, publisher and period-category
TO ORDER: Download Order Sheet and Fax 714.733.5761

Inquiry and Information: nccofmusic@att.net